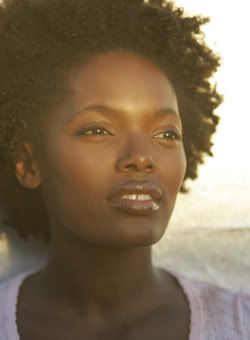 © all materials copyright Keri Shahidi, 2010
Does that name sound familiar? Are you looking at her picture and asking yourself, "Now, WHERE have I seen her?"
Maybe the below clip will jog your memory a bit more.
NOW do you recognize her? I figured you would. :)
She's the beautiful and talented model/actress most recognized (in the natural hair world) through her print and commercial work for(although not limited to) McDonalds along with her equally beautiful daughter, Yara Shahidi, who is also a natural-haired model/actress and featured in the above clip on Oprah.com called, "Real Mothers and Daughters Talk About Beauty".
In an industry where natural [Black] hair isn't accepted as the norm, but more recently seen in print and commercial work, Keri Shahidi always managed to stand out to me. Not only because of her natural hair, but because of her natural beauty. I also don't know how often it is that you find companies hiring BOTH mother, daughter, AND son (yes, it's truly a family affair) in marketing campaigns and commercials. I KNOW I'm not the only natural who has noticed her in EVERY one of her commercials, almost gushing over her beautiful chunky twist out/BAA!!
With the encouragement of a fellow Naturalista, I reached out to Keri a few weeks ago and she was sweet and gracious enough to allow me to pick her brain for all your reading pleasure, while on location in Louisiana with her daughter who's currently filming.
NU
: Firstly, how long have you been natural? If you haven't been natural most of your life, was being natural encouraged growing up?
Keri: I first went natural when living in the Windy City- Chicago, and couldn't make it from my apartment to the university in one piece. My long, straight hair drove me crazy. Natural was neither encouraged nor discouraged when I was younger. I did love my cornrows and beads, though!
NU
: As an actress/model, have you ever encountered difficulty in obtaining roles or jobs because of your hair? Have you encountered individuals wanting to modify your look AFTER getting roles to look more "mainstream"?
Keri: I have absolutely lost jobs because of my natural hair, but I have gained many jobs because of it as well. Natural hair is extremely flexible, so I have not encountered anyone wanting to modify my hair. My hair can look like a conservative bob hair style, a funky afro, an up do, dreads, you name it!
NU
: Have you ever felt the need to somewhat conform (going to go-sees or interviews) by wearing straighter hair? If so, why? If not, why not?
Keri: I have never felt the need to conform because I am a Leo! We love to stand apart from the crowd!
(Gotta love that answer, although I'm a Leo and SLIGHTLY biased).
NU
: With acting and modeling being a family affair, what pearls of wisdom have you shared with Yara(and your son, Sayeed) concerning Hollywood and their love and acceptance of "self"?
Keri: My children have always had "afro pride". My ten year old daughter had her hair blow dried straight for her first big girl hair cut when she was 5. We had to twist her arm for her to let us temporarily straighten her curls. She is a lover of beads, twists, braids and nockie balls! My sons love their hair too (the toddler would prefer that I didn't touch it though!)
Now onto my hair-specific questions. :)
NU
: What is your favorite go-to style?
Keri: My favorite go to style right now would be a two strand twist, pin curled and put under a men's fedora....Cute! I also will twist it and then pin the back up so it looks like a stacked bob.
NU
: What's your current hair-routine? Favorite products?
Keri: My current hair routine is get it in where I can fit it in! I have three children...need I say more? My favorite products are:
Kinky Curly
,
Aphogee
, and
Miss Jessies
.
NU
: Do you use the same products on your daughter's hair? If not, what products do you find work best for her?
Keri: My daughter and I use the same shampoo and conditioner. She primarily sticks with Kinky Curly, because it is organic and leaves her hair in great shape.
NU
: For the ladies reading this, both natural and those transitioning from relaxed-to-natural, what advice or words of encouragement do you have to offer?
Keri: In the words of India Arie, "I am not my hair". This is tough to grasp in our culture where our hair is also our crown. In 1997, I was working full time, student teaching in a high school Spanish class, and planning my wedding. The hair on the back of my head fell out from the roots. I was forced to shave my head to a fade style. That moment was humbling for me and I came to terms with me without my "crown". Since then, I have shaved my head three more times.
And there you have it, Naturalistas!
I'd like to publicly thank Keri for taking the time out to answer these questions for my readers. If any of you are interested in reading or learning more about Keri, you can check out her site at
www.kerishahidi.com
and/or follow her blog
commercialmommy.blogspot.com