I didn't watch the BET Awards in its entirety, mostly because it coincided with my True Blood, but I did catch enough to see some of the fabulous natural hair!
First, we have the beautiful Esperanza Spalding. I wonder if her 'fro ever DOESN'T look on point. She was flawless last night.
The always funky and eclectic Janelle Monae with her natural pompadour and gorgeous skin.
And my favorite hair-celeb under 21 that gives me hair envy....Jaden Smith.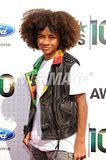 All pictures are
©

by Getty Images, 2010