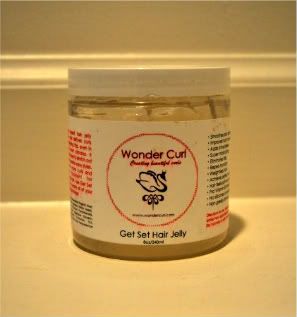 I'm all for trying out new products when I'm able to, and thanks to Scarlett of Wonder Curl, I was able to do so.
The jar says the following:
This aloe based hair jelly smoothes and defines curls while eliminating frizz, even in the most humid climates. It can also be used to stretch out the curls to create wavy styles. Scrunch for more curls and volume. Excellent for transitioning hair. Use the....jelly to create all of your favorite natural styles!

As it says above, this "jelly" is a gel that is said to help minimize frizz and resist humidity, amongst other things, and this past weekend in the D.C. area was a GREAT time to test out just HOW humidity resistant this product truly is. It was so hot, my dry hair become wet all over again because of how much I was sweating! LOL!
With glycerin and aloe-based gels, I like to use lighter leave ins, as it minimizes instances of those little hair-balls that pop up when you use two products that don't emulsify well. I also apply to wet hair, and in sections to ensure that the product is distributed as evenly as possible.
Okay....time to break down the pros and cons.
Pros:
Easy to apply.

I applied it over my PM, The Conditioner without any issues.

Dried quickly.

I wasn't walking around with wet hair for most of the day, which generally happens with most gels. Let me rephrase that...ALL day. Takes my hair over 8+ hours to completely dry with most gels.

Great definition.

My curls were POPPING. I still had a little frizz, which I expect regardless because it's naturally frizzy, but the coils actually LOOKED like coils and not just s-waves. It probably would've looked even better had I taken my time applying it. lol


Even after sweating buckets, my hair STILL looked good!

I was at an auto auction for 3 hours in the sweltering heat....outdoors. My hair managed to still look presentable even though I felt like I needed a cold shower.


Achieved 2nd, 3rd AND 4th day hair!!

I didn't apply any other product, nor did I apply more of the gel. Just fluffed and went. :)
Cons:
Contains a short-chain alcohol and an astringent

. These are generally used to help with minimizing drying time, which CAN be a good thing if you need something quick-drying. But with that, it can also potentially dry the hair. So if you're using this, or any product with these ingredients, I'd recommend using a good, moisturizing product to counter potential dryness. Maybe Wonder Curls Get Slick Hair Smoothie would work in this regard, as most products produced by a line/manufacturer generally are made to work with each other. Or, you can give yourself a good moisturizing deep treatment.


Interesting scent.

It's not bad per se(it's a "honey almond" scent), but I'd prefer a non-scented gel. It doesn't linger though, for those who are scent-sensitive.
There weren't really any major cons, outside of the ones listed. As always, I try to break down reviews honestly so that you all can make the most informed purchasing decisions. Is it worth a try? I'd say yes, if only for the definition and 4th day hair I achieved. But if you're unsure, I'd purchase the smaller 2oz bottle to give it a try. As we know, there is no one-size fits all when it comes to products so if you're hesitant to buy the 8 and 16oz jars, go smaller to see if it's a good fit for your hair.