Another cool option to try out when you want a different look is wrapping two-strand/twisted hair around sm-mediumish perm rods. I think this can also replace bantu-knots, should you not want to do those as they can be uncomfortable(and sometimes cause headaches). You're still twisting the hair in the direction of the twist itself, so the end result is similar(not exact, but similar), but a bit more polished.
For this style I did the following:
I washed and conditioned my hair, using a lighter leave in as to minimize drying time(

PM The Conditioner

).
Hair was sectioned off and then sectioned off again to put my hair in two-strand twists and I wrapped each twist around the perm rod immediately after twisting.
I wrapped those twists in the direction of the twist to create a more uniform and consistent look.
I used

Fantasia IC Gel

(for color treated hair since it seems a bit more nourishing) on these twists.
After complete, I sat under a hooded dryer for about 2o-30 minutes since my hair was partially dry by the time I was complete.
I did not remove the rods right away because sometimes there are twists that are still wet. I actually slept in them overnight to ensure they were dry w/o sitting under dry heat again. I don't necessarily recommend that since it was uncomfortable.

The next morning, I unwrapped and unraveled my hair, applied a little oil, fluffed and went on my way.
Looking back, I could've done much more with my hair with this style, but just pulled it back w/an elastic headband.
The results are pictured below. It was very fluffy and movable....if that makes sense. I had a lot of movement and the curls stayed nice for about 3-4 days before starting to look a little less polished. ;)
Hair after removing rods: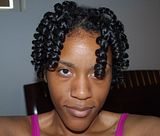 Hair after unraveling twists: