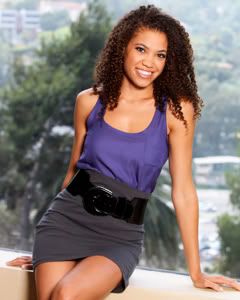 Meet Monet Stunson, the Miss Illinois 2009 winner up, model and current house-guest vying for the $500,000 prize on Big Brother 12. I think she may even be the first Natural I've seen on the show. Don't quote me on that, but I think I *may* be right!
Firstly, I LOVE this show and secretly wish I had the cajones to try out. But unfortunately, I lack in that department and live vicariously through my favorite participants. Although the season JUST started, one couldn't NOT notice Monet's lovely locs. I wonder what she uses. Maybe we'll get a glimpse on Big Brother After Dark? :P
And is it bad that I'm rooting for her just because she's a Naturalista? :P I'm so biased. I also think it would be kinda funny if she's the saboteur! Juicy!