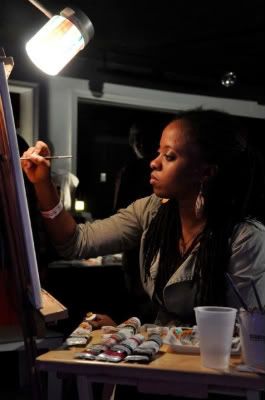 On numerous occasions, I've gone to the Caverns(Bohemian Caverns for those not from DC) on Open Mic Night. Not only to watch and support local spoken word poets, singers and musicians, but to support local area artists who participate in creating live paintings on site. Beautiful paintings, might I add.

The talented Naturalista responsible for those live paintings is Reshada Pullen.

What separates her work from other artists is her emphasis on women with NATURAL HAIR! I'm sure you love this already, right? Well, I'm sure you'll love the following interview as well. :)
NU:
At what age did you know you had a unique gift?
RP: It is hard to answer this question truthfully without sounding full of myself. I have always been gifted in nearly everything I have ever been taught. I've always been creative—I can sing, dance, cook and write. If you can convince me that creativity is involved, I will want to try it. I've drawn as far back as I can remember. I did not start taking painting seriously until I was seventeen.
NU: Your site states that you focus on, "...people and their relationship with either the viewer; or elements within the composition space." What made you decide on this focus?
RP: I love people. I am deeply interested in people and how we choose or choose not to reflect the Most High. I like to learn about how we experience joy, or disappointment. I feel that there can be so much more to a piece of art than what is within the selected frame of vision. As viewers we bring our past experiences to everything we observe. Two people can look at a work and observe with their eyes the same composition, but read completely different messages depending on how they have lived their lives.
NU: Many of your pieces show women with natural (loc'd) hair, and you yourself are a naturally loc'd sista. I have to say that I LOVE THAT about your pieces! What made you want to incorporate that into your work? Was it deliberate or were/are you just conveying and interpreting what you see daily?
RP: Oddly enough, even here in D.C., I don't see as many sistas with locs. I've noticed a serious lack of images of women with natural hair within our visual culture. When I first started painting, I had a slight disdain for most things feminine. I'd been taught (by society, not my parents) that women were weak, and severely limited. As a result, I rarely painted images of women. I painted men. Only in the past few years have I grown to appreciate all that I am becoming, as a woman. I like the visual versatility of loc'd hair. I have nothing against women who wear their hair loose, or relaxed or somewhere in between. I just feel that we have enough images of women with straight (and often bleached blond) hair. I just want to celebrate the beauty that The Most High gives all of us. He gave me fuzzy-poof hair, I chose to loc it.
NU: What inspires your art? Who or what person(s) inspire or HAVE inspired what you do?
RP: God is Love and my primary source for inspiration. As we all are, I am inspired by my life. For years I focused on creating lessons for my students, but neglected my own artistic growth. Last summer when Michael Jackson died, I recognized that he died--still doing what he was created to do. I did not want to look back on my life, and see years of mediocrity, routine, emptiness, and failure. I want to live a life that is full, giving all that God has given me. He blessed me with the ability create.
NU: If any of my readers were interested in purchasing any of your pieces, how would they go about doing so?

RP: They can go to reshadapullen.com and purchase through PayPal ©, or contact me at reshada@reshadapullen.com
Below find some of her beautiful pieces. Two of which I had the pleasure of viewing her paint live. :)