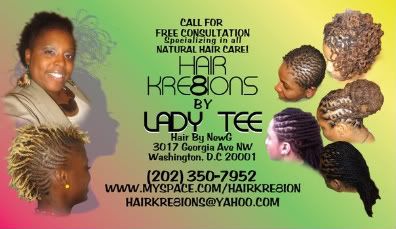 It's always great when I encounter natural hair stylists who are not only good at what they do, but also passionate about what they do. What makes me even happier is when it's former classmates who are doing well for themselves and making naturals even more beautiful along the way.
A little while ago, I had the opportunity to talk to an old friend, Latoya "Lady Tee" Pinkney-Cofield, owner of Hair Kre8ions in D.C. Below, find my short interview with her.
NU: How long have you been a natural hair stylist?
LT: I have been a natural stylist for 12 years now.
NU: What made you want to focus on natural hair, if that is your main specialty?
LT: I love that I could be more creative with different techniques to show my true talents and skills with natural hair. I specialize in locs, twists, loc extensions, [and] natural styles such as mohawks, etc…
NU: As a natural hair stylist, what is the most important thing to you concerning your customers?
LT: [Overall] hair care is most important.
NU: For the ladies who are transitioning or already natural, what advice do you have for them concerning natural hair and/or loc maintenance (if interested in getting loc'd)?
LT: My advice would be to consult with the person who will be caring for your hair, ask what products they are or will be using when you receive their services, research your products… and make sure that it's a natural product line and/or hair care system that is for natural hair. Ask plenty of questions if you are unsure about transitioning or being natural.
Simple and to the point. :)
If any of my readers are local and interested in scheduling a consultation with Lady Tee, she can be contacted at (202)350-7952. Below you will find some of her beautiful work.