I told myself no more buying anything related to clothes. Well....ummm....that didn't work out. BUT, once you see them and what little I spent, it'll compensate for my lack of....control?
I always say that if it's on sale, it's okay. ESPECIALLY when it's 70% off retail. You heard me correctly. Seventy percent.
Oh.yeah.
What did I get for 70% off you ask? Well, a cute pair of Hannie platform booties by No 704b. For some reason, it's REALLY hard to find other retailers who sell this brand, but by the looks of the shoes I saw today at DSW, they're quite the fashionable line. If I were to see these shoes at regular price, I wouldn't even look twice. Remember, I told y'all I'm cheap. :P But when I saw the 70% off of $109.94, there was no way in HELL I was leaving them. Especially since they were the last pair of this style and discount in my size.
The pic really doesn't do the shoe justice. Very different. I like different.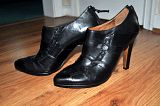 Retail Price: $275
MY Price: $32.98
:)
Second find was a burnout tank by Lush(didn't I post a burnout tee a few weeks ago?) that was purchased from the newly opened Nordstroms Rack out in Northern VA. I can tell that store is gonna get me in some trouble. Anyway, the tank is cute and would actually look cool with that jacket I posted last week....just for an interesting look.
Retail Price: $28.00
MY Price: $14.97


There were some others, like a pair of Cole Haan sunglasses that I also purchased at Nordroms Rack(although I really wanted these really cute Kate Spades, but not for 30+ dollars more. :P) and a purse I put on layaway at Marshalls. Don't laugh, I will use layaway in a heartbeat when I don't wanna come out of pocket right away. LOL!
Natural Urbanista