It had been about 6 months, maybe 7, since I'd done a henna treatment. The reasons? It's messy as hell AND because my amla supply was depleted. *sad face* I also didn't want my texture to loosen as that can be one of the "side-effects" of frequent henna usage. Also, my finances didn't(and don't) allow me to splurge on amla, which helps to minimize texture loosening and with facilitating dye release. But then I had an idea.
*light bulb flashing*
I have a WHOLE BUNCH of powdered herbs that I purchased last summer that actually have reported benefits for the hair. So…..why not incorporate the powdered herbs to my mix? Time to play kitchen/bathroom chemist again. LOL!
The plan:
1.
Jamila Henna
(Lawsonia Inermis, mixed with another non-boxed henna)- We already know the purpose of henna, right?
2.
Cassia
(Cassia Obovata, Cassia Obvata)- Conditions hair in a manner similar to that of henna, providing body, aiding in detangling, scalp conditioning, and provides shine/sheen to hair.
3.
Burdock Root
(Arctium Lappa)-Contains mucilage and starches that soothes irritated skin and membranes and is one of the most effective herbs for promoting hair growth and reducing the amount of hair shed.
4.
Marshmallow Root
(Althaea Officinalis aka Gulkhairo)- Soothes both the skin and scalp. Used alone(or with other ingredients), it provides excellent relief from skin and scalp irritation while leaving hair soft and shiny.
Sounds decadent, right? Yes, it does. Now, IS it as decadent as it sounds?
*drum roll please*
Results:
So, I applied one box of Jamila henna, a couple of tablespoons of another henna, five big spoonfuls of cassia, and maybe four of marshmallow root and burdock root. No, I didn't take exact measurements. Who does that anyway? :P I also used green tea for my acidic liquid(although it likely wasn't needed, but I like it anyway), and I finished it off with some sweet almond oil.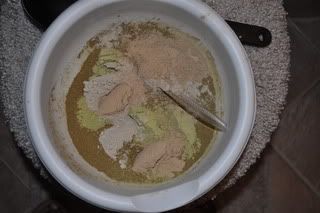 The mixture looked like chocolate pudding. You'll notice in subsequent postings that I liken EVERYTHING to food. Just a forewarning. :)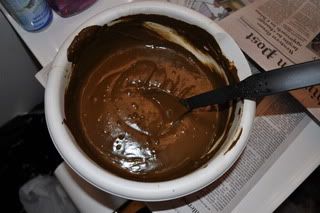 I experienced instant dye release and began applying the mixture to my hair. Since my hair was already sectioned off from a previous twist out, it was easy to apply. What I noticed with this mixture that I hadn't experienced in previous henna treatments was how much slip I had. It literally glided onto my hair. It was smooth, and there was minimal splash. I think the marshmallow root had something to do with the slippage, as I remember reading that it provides a detangling benefit when combined with hot(semi-hot) water. I'll have to research that a bit more before saying that definitively.
I applied the henna mix at around 9:30 pm (twisting up my hair to keep my sections intact), and kept the mixture on throughout the night and into the following afternoon/early evening. After 19 hours of being a human bobble-head, I began the task of removing a pounds worth of "dirt" out of my hair. LOL!
To prevent clogging up my tub, I filled up a bucket of warm water and dunked my head, swishing around for a few minutes. After getting the majority of everything out, I THEN rinsed my hair out in my tub and begin cowashing to remove all the remnants of powered herbs. I don't always get every single, minute piece out, but I never have so much where I pulling it out days after.
After rinsing, I DT'd for as long as I could tolerate. Since Elasta QP changed the formula of my beloved DPR-11, (*shakes fist in anger*) I'm either settling with the reformulated version which for all intents and purposes SUCKS, or Yes to Carrots Hair and Scalp Conditioner.
I rinsed it out and proceeded with my normal weekly routine, which involves twists and a subsequent twist out(later in the week). I used my trusty Giovanni Smooth as Silk conditioner as a cowash and leave in, deep treated with Yes to Carrots Hair and Scalp Conditioner, and styled with Elasta QP Olive Oil & Mango Butter Moisturizer for my twists.
The proceeding day, I noticed that my hair was pretty shiny. There was a bit more hang post-henna, but no noticeable elongation (which wasn't a goal anyway). I also had minimal shedding. That's always a good thing, but I won't say the henna necessarily contributed to that. I'd have to get back into a more consistent routine before making that claim, as I don't do hennas enough for that.
So all in all, I'm liking the results. I'm loving the color tint, and LOVING the fact that these herbs help clear up my scalp. No buildup and no dry scalp. WOHOO! If I would've had my alma, it would've been even better! Ayurvedic herbs ROCK!