And it didn't turn out totally jacked!! LOL!
I tend to avoid ANYTHING that has my arms up at an angle for an extended period of time. Especially after doing light-weight training. That just makes my arms burn even MORE, but I was tempted last night while watching "Gossip Girl". I don't normally watch it, but since "24"is no longer on the air *tear*, I had to supplement my mindless television fix.
Anyway, I kept them kinda fat since that would require less time and just kept going, no matter HOW they looked. BUT..... they surprisingly didn't suck! Wohoo!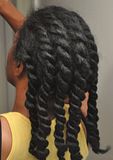 Last night, I ended up sorta bunning the back and covering with a satin scarf, and this how is it came out. I'm actually pretty proud of myself! :)
Again I ask....who says natural hair isn't versatile!? :P