There were many MANY naturals that have and continue to inspire me everyday, but I can remember one curly who was always encouraging and also gave me hope of having long hair. Especially after her telling me that my hair at a shorter length resembled hers. That was probably because I was coloring my hair(which loosened my natural curls, lol). Anyway, while long(er) length isn't necessarily my goal anymore, she was one of the few highly textured haired ladies I knew that had at the very least reached waist-length, if not tailbone length, UNSTRETCHED.
For those who are members on
LHCF
or
Naturally Curly
, you would know this chica as "Midnite Curls". Her fotki and other accounts are no longer active, so I couldn't get many of the longer hair pics, but I did manage to keep two of her pics as inspiration many years ago. Hopefully she won't mind. :)
This pic is of her hair at APL unstretched.
And her hair at just beyond BSL unstretched, which you KNOW was at tailbone once straightened.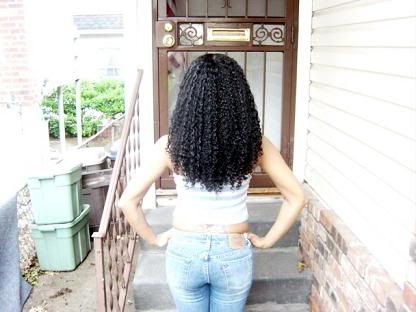 ETA: One of my AWESOME Naturalistas, HennaRo, found a sorta newish pic showing her hair at beyond waist-length, unstretched.
That's A LOT OF HAIR! LOL! WAY more than I could handle, but as you can see....textured hair CAN GROW. :)