One of the misconceptions about natural hair is that it's hard to straighten it. Not true. In fact, it's not difficult at all and I've been able to straighten it without heat damage or reversion issues.
My straightening routine is pretty simple:
Wash, conditioner and DT hair with my choice of staple products. In the pictures below, I believe I used Elucence MBS, Elucence MBC, and no DT at that time.
I use a light leave in(typically PM, The Conditioner) and coat hair with an oil blend and either lightly blow-dry fluffy, or let my hair air-dry in twists.
After allowing my hair to settle, I section my hair into 4, working from the back to the front, using a simple multiple-setting ceramic iron(it was under $50 bucks).
I use an oil blend(Natural Oasis Styling Oil) on each piece being straightened until I've completed my entire head.
After complete, I oil my ends and wrap in a satin scarf and leave on until ready to wear out. I sometimes use a serum that has a few silicones in it. This is the ONLY time I use products with silicones typically, since it helps to repel moisture.
The pics below highlight the outcome. These were taken in November 2008.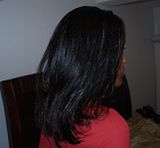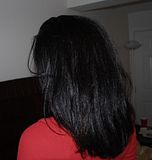 I typically straighten during the cooler months since it's typically not humid, as humidity and straight hair just doesn't mix. So you won't ever see me rocking a straight 'do right now. ;)