Not sure if any of you know that the Floacist is no longer loc'd. She is rocking a baldy and looking gorgeous doing it. Not only that, but her whole essence now is just....I don't know. It's hard to encapsulate into words, but she is just beautiful.
Here are pics from her new video f/Music Soulchild. I'm kinda digging the [Medussa-looking] tat on her back, too.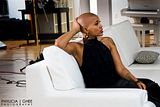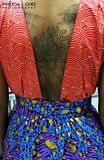 ©

Phylicia | Ghee Photography. Pictures were posted here for illustrative purposes only.
Natural Urbanista