I know it's just barely fall, but it's never too early to start looking into ways to help protect your hair during the colder months. My routine typically mimics my routine during the spring and summer and involves two of my favorite words: Protective Styling.
This routine has contributed in my ability to retain the most length I've EVER had in my entire life. This, along with maintaining a consistent routine has allowed me to grow healthy, long hair over the last two years. The one main difference between warmer and cooler month routines is the frequency at which I deep condition, which goes from maybe 1-2 times a month, to every week. I also find myself doing more henna/amla treatments.
The combination of colder weather AND drier air(inside) can wreck havoc on your tresses so it will be important to utilize a routine that keeps it hydrated and healthy.
Oh, I also tend to straighten a few times to give some variety, if you will. (see most recent pics from today, below)
1st pic is of loose hair taken out of a bun. 2nd pic, WITH bun and scarf.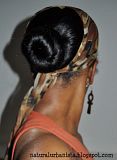 Anyway, what steps do you need to take to winterize your tresses? Here's my take:
-Minimize manipulation. Pretty simple, but the less you mess with it, the less likely you are to damage it. And with the hair becoming much drier during these months, less is definitely more.
-Be careful of using styling products with humectants. This includes honey, glycerin and aloe. If you're in a region with no humidity and dry air, the humectants have no moisture to draw from, so it ends up leaving your hair feeling much drier than if you used those same products during the spring and summer. If you're going to use products with these ingredients high on the [ingredient] list, make sure you're using a nourishing leave in conditioner underneath. You may also find that your hair takes longer to dry. If that's an undesirable, you may want to avoid using these types of styling products all together during the fall/winter.

-Use a good conditioner, leave in AND deep treatment. I can't stress how important good conditioners are to maintaining the moisture balance of your hair. I don't mean just sealing with butters or creams (or emollient-based products). I mean products with actual conditioning agents. Natural hair is already drier than other types, so it's important to use products that keep the hair moisturized and pliable.
-Wear hats!!! As someone who doesn't like wearing anything on my head, I can attest to paying a price for going out into the cold, dry elements without protecting my hair AND scalp LOL! ESPECIALLY when wearing WnGs, which is one of the reasons I do protective styling. It's easier to cover with a cute hat, and I'm less likely to walk out with wet hair. Nothing cute about dry hair or a sick body!
-Seal those ends. I sealed them during the warmer months and I plan on sealing them in the colder months. A good base of a leave in and/or styler, with and emollient over-top helps to seal in moisture. Since the air will be dry, sealing in moisture is really important.
-Don't rob your hair of moisture using cotton ANYTHING on your head! If you sleep on a cotton pillowcase….STOP! LOL! Purchase a satin pillowcase from Walmart for like 9 bucks or go to your local BSS and purchase a satin scarf. I actually use a scarf with a pocket in the back that allows me to stuff my hair inside of it, while still being able to tie down the front. Anyway, cotton is abrasive and sucks up product and moisture….something you don't want.
-Keep hydrated. Water is just as important during the winter as it is during the summer. Practicing good health in general ALL year long is beneficial to your hair. So take care of your body….inside and out. Your hair will thank you for it.
Natural Urbanista