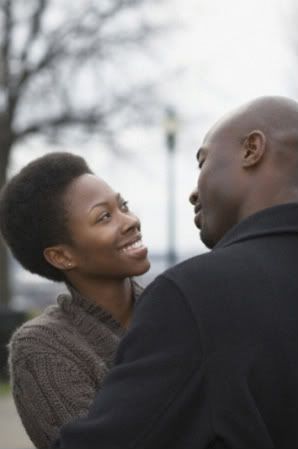 Does he love your hair?
I've been fortunate throughout the years in that every guy I've seriously dated since going natural loved my hair. When I went natural, my then SO was accustomed to my straight hair, since that's how he met me. And he was also used to playing in my hair, so to go from straight to curly required a little adjustment. Plus the no touching rule was tough on him! Mess with the fro and it was go time! LOL! Or I'd shake my head like my rabbit shook his ears. He always got a GOOD laugh out of that. But even though he couldn't run his fingers through it, he loved me and supported anything that I did.
I haven't had to deal with the non-approval from any SO's OR family. It's always interesting to me when I read about other natural's struggles with acceptance from those that they love. I don't know how I would feel if my SO turned his nose up in disgust or if he ever told me how much better I'd look if my hair was straight.
My hair isn't naturally straight. Deal with it.
I'm sure it's even MORE difficult if you're married to this person. I'm a pleaser and of course I'd want the guy I'm in love with to love everything about me. It would hurt to hear disparaging comments about my hair. In fact, if I was the old me (wanting to please AND lacking in self-esteem), I'd probably go back to being relaxed. Sometimes when you get "beaten" down emotionally/psychologically by those whose opinion you value, you crack and revert under pressure. Hell, some crack under general pressure!
But luckily I'm not that person anymore.
You have to love ALL of me, not some of me, and a part of me is my hair. You can like the look of straight hair, but to hate something natural on the woman you supposedly love is effed up!
I will say that many of these guys and family members were ALL influenced by the social conditioning that continues being perpetuated by the straight=good and kinky=bad mentality. It's not something that will change overnight. I think if he sees how much YOU love your hair and yourself, he'll have no choice but to love all of you too. It's like that song you hear all of the time. You may hate it in the beginning, but it grows on you after awhile. It'll grow on him. But if not, so what! LOL! At the end of the day, you have to be happy with the person you are and the person you're becoming. Nothing else matters. :)