I remember when I cut the last of my relaxed ends off. It was in August of '03 and I was visiting family in Minnesota. I had been cutting bit by bit over those last two years and decided I was ready to cut the remainder off. And when I did, it was freeing. I had the cutest coils and curls. Perfectly symmetrical, sproingy (yes, I know that's not a word, lol), and mine. THEN I decided to mess with the formula. *smh* That included dyeing my hair with not only dyes that deposited, but dyes that lifted (bleached) my hair. Did I mention they were BOXED color? The results? Looser, fragile curls.
Judge for yourself my hair transformation from wearing dyed locs in 2005 to being boxed-color free 2010(click on the thumbnails for larger pics).
Winter 2005
Spring 2006
Winter 2007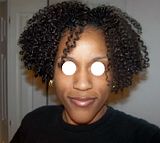 Spring 2008
Late Summer 2009
(sorry for the sucky pic, lol)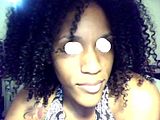 Spring 2010
If you haven't noticed, the longer (and healthier) my hair gets, the more shrinkage I have (and definition).
Healthy hair= more shrinkage.
I don't do WnG's (wash and gos) very often anymore, hence the semi crappy recent pics. Keeping the hair in protective styles has allowed me to grow my hair from what's pictured below on the left (at APL taken in Nov. '08) to what's pictured on the right (brushing WL in Sept. 09) in less than one year.
Who says our hair can't grow. :)