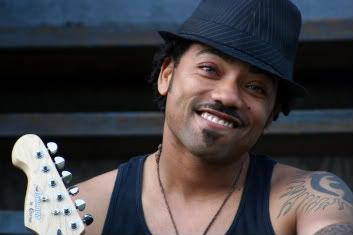 I had the pleasure of meeting this gentleman at an open mic at Bohemian Caverns a week ago. Not only is he a talented musician/singer (brotha WORKS the stage! I don't think y'all heard me....WORKS IT!!), a loving and devoted dad, and artist (peep his work below), he's ALSO exceptional in the craft of beautifying a woman's natural tresses.
Ajani has been a natural hair stylist for the last 6 yrs, and in speaking with him, his passion for natural hair care (and life in general) oozes from his aura. I don't know about you all, but in looking for a natural stylist, I want to go to someone who is NOT only knowledgeable about what they do, but also PASSIONATE about what they do. Not just someone jumping on a trend or bandwagon in hopes of ONLY cashing in. We ALL know there are A LOT of those popping up trying to capitalize on this burgeoning niche market by pushing [mediocre] products and services.
He's definitely not the latter, but I digress.
I asked him a few questions and he was gracious enough to answer them for you all.

Why is natural hair your passion?



I love to see women the wa

y God intended. I love the feel and look of all natural textures. I have seen the long term effects of chemical processing and it's a turn off.
As a stylist, what do you hope your patrons walk away with, outside of fab hair?



I want my clients to leave with a sense of satisfaction that they spent their hard earned money and valuable time on a genuinely good service. I also want them to know I am here to support them on their journey.
Do you have any advice for those that want to go natural or those that have already begun their natural journey?
Patience, patience, patience!! The journey is not easy in the beginning, but the outcome is amazing!
So there you have it! You can't say I didn't hook y'all up. ;) He works with all types of natural hair, whether loc'd or loose. Below I've posted some of his hair art and his artwork showcasing the body and natural hair, along with his carpentry skills (click thumbnails to view larger pics). I mean, can you say TALENTED?!
For hair appointments and/or queries, you can reach Ajani aka "The Maintenance Man" of
Gena's Creative Beauty Salon
located at 3630 Georgia Ave., N.W., Washington, D.C., at 202-829-8066 or directly at 202-706 8707.
Tell him "the lioness" sent ya! :) Oh, and for the record...I was NOT paid or given any incentive(s) to glowingly endorse him. lol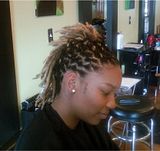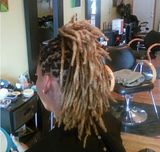 Here's some of his artwork