Not that there's anything WRONG with boxed wine(or malt liquor), but I'm just saying.
I'm gonna razz ONE product today. I haven't used it, and I don't need to use it to KNOW it's overpriced and likely over-hyped.
MoroccanOil Oil Treatment
. I saw this retailing at my local BSS for $65!!! Yes, you read that correctly. Sixty-five dollars for less than 7 oz(6.8 oz).
So, what is so freaking special about this product for the manufacturer to think it's worth $65 dollars?!
Wanna see what you're paying for?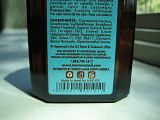 (picture borrowed from http://www.fightinmadmary.com/2009/05/moroccan-oil.html)
Yup....exactly. *smh*
But I will give it to them. They've done an exceptional job marketing this product to the rich and famous (or anyone crazy enough to believe the hype) as the solution for dry, frizzy hair. You're likely paying for the [less than] 5% of Argan oil(which is like what....$7 worth if NOT wholesale?) that's part of this product's formulation. I can almost guarantee that 80-90% of this bottle consists of the first THREE ingredients and those are cheap and easy to find.
GIMMICK!!!!