Along with liking to WEAR pretty things. :P
I LOVE handmade accessories, and I don't like to be stingy so I'll be offering up items over here from time to time for anyone interested.

First up is a beautiful pair of imported handmade earrings. These two-tiered copper earrings were woven with copper wire and mist pink glass beads (that are a softer purple, imo). Lead free fish hooks were used and the earrings measure approximately 3 3/8 inches.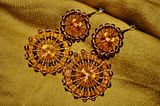 I've never seen any earrings like this, so I'd snatch 'em up if I were you!

If you'd like to see more pics of them, just hit me up on my email.

Price: $6.45 (excluding shipping). I accept USPS money orders or Paypal.