I had to post these pictures. Why? Because not only is she the talented offspring of the gorgeous Eric Benet(she's featured on his latest album), but she's naturally beautiful herself. I mean....look at her! If I were to grow my hair out a bit more, I'd want her length, but errrmmm.....it'll be YEARS before I get that kind of hang.
Until then(if ever), I'll just live vicariously through her. ;)
The pics below are from a photoshoot for her album.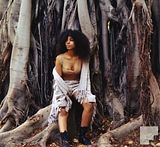 Natural Urbanista