It's been entirely TOO LONG since my last post. I will get better....I promise.
As many of you may or may not know, I spent about 5 days for my birthday in the Virgin Islands; my first foray off of the mainland. And actually, my first REAL vacay in my adult years(I guess turning 30 served as my motivation). I had THE best time, so my departure from St. John was bittersweet. For anyone who has visited the island, you'll understand what I mean. But the great thing is I can always go back..... and I will. Next time, for a week or two.
I wasn't a beach person til this trip. I avoided it like the plague(blame it on my non-existent beach body). Now I'm a beach snob. I shall NOT set foot in water that isn't a pretty as the water I submerged myself in while swimming(well, technically laying) in the waters off of Honeymoon beach.
I mean seriously....can you blame me? :P
Okay, back to my hair. I had blown out my hair days prior to leaving and for the first few days; wore a Corinne Baily Rae inspired 'do.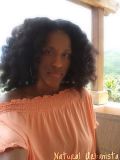 By the time I took this pic, my hair was already expanding. Humidity AND wind, y'all. lolAnd about 2o mins later, it was pulled back into a massive puff. And I mean massive. Sorry, no pics of that. If only I could've photographed folks' expressions! :)
I eventually wanted to swim and pulled the hair in a single braid(which surprisingly stayed put), and did my thing. I tried to take some of my staples(Elucence MBC and shampoo, moisturizer, etc), and managed to make my little 3oz bottles work, but what I wasn't expecting was how HARD the water was. My hair felt HORRIBLE. Even with cowashing everyday. So needless to say, I did a major DT when I came home using
One 'n Only Argan Oil Hydrating Mask
(which I LOVE, btw....review coming soon!). I'm not sure if that salt water did my hair any good, as it supposedly is great for the hair, but when I DT'ed my hair, it was like butta.
I also found myself tiring of fighting with my hair(it just wouldn't stay DOWN) and pulled back into a wrap. Oh, and you know my hair FINALLY cooperated on the day of my departure, right? Figures. LOL!
So even with my temperamental hair, I had a wonderful time. The food, the CONDO I stayed in, the people, and just the beautiful and unspoiled nature of the island, which is like 60% national park.....perfect. So, if you've NEVER been there.....go. Oh and some advice:
Don't decide to buy toiletries there. You will be set back quite a bit of green(my travel buddy learned their lesson, lol).
Slather on that sunscreen!!! I didn't put on enough and I got sunburned. Hurt.like.HELL. And the peeling is SO not sexy.
Spend your first day just walking around. You'll discover little gems on your excursions.
If you can, rent a place with a full kitchen and make your own breakfast and lunch. Dinners are typically more expensive, but if you're only really spend on dinner, it balances out. Woody's is great for breakfast(massive pancakes...yum)! and Banana Deck had some of the best tasting food. Ate there THREE times!!
Be courteous and say, "Good morning, afternoon, etc." Don't just say hello. Pleasantries will get you far better service with native islanders.
And if you're used to hustle and bustle....get UNused to it down there. It's chill-paced. No one's rushing to do anything, so you'll need to readjust your 'tude and just ENJOY yourself! :)
Natural Urbanista